Para muchos un juego que tenía el potencial como para llegar a triunfar y para otros no fue más que un juego lleno de simples promesas.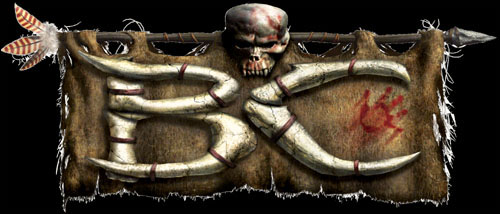 B.C. fue un juego de acción y aventura que estaba siendo desarrollado por Intrepit Computer Entertainment y Peter Molyneux como líder del proyecto. B.C. estaría ambientado durante la prehistoria y tomaría lugar en un continente dividido entre cinco niveles. El juego fue rebelado a la prensa en el E3 del 2001 sorprendiendo y generando interés al publico por ser innovador e impresionante a nivel de gameplay. El lanzamiento del juego estaba planeado para el 2003 y sería exclusivo para Xbox.
El jugador tomaría el control de una tribu y su objetivo principal sería evolucionar y migrar a diferentes partes del juego para así llegar a convertirse en la mejor tribu del juego.
El juego también tendría un toque de Rol, pues los miembros de la tribu estarían divididos en diferentes clases: cazadores, místicos, peleadores, etc. Los habitantes de tu tribu podrían subir de nivel mientras aprendían nuevas habilidades para hacer mas fácil el sobrevivir. Tus habitantes también tendrían la posibilidad de procrear y así poder aumentar la población de tu tribu. Incluso los bebes serían diferentes dependiendo de los padres como si de un Sims se tratase.
Los simios serian tu mayor amenaza a la hora de evolucionar, los simios serian mas rápidos y fuertes que un simple mono y tendrían la habilidad de usar rocas y palos como armas. Los dinosaurios también serían un problema para tu tribu, pero no serían tu enemigo principal, pues no todos los dinosaurios serian agresivos.
Algo que impacto a la mayoría fue la inteligencia artificial de los dinosaurios lo cual daba mas realismo y vida al juego. Los desarrolladores prometían que los dinosaurios serían totalmente independientes del jugador, pero el jugador tendría un gran impacto en el ambiente que incluso podía llevar a algunos dinosaurios a la extinción. Algunas personas explican que el juego era tan complejo que si extinguías alguna especie esto implicaría un sobrepoblación de otra o viceversa. Por otra parte el juego tendría un ciclo de día-noche y un clima dinámico.
En ningún momento se hizo oficial la historia principal de B.C., pero investigando un poco leí en un foro que tu misión principal en el juego era escapar de un volcán, lo cual no parece tan descabellado. Posteriormente encontré mas información al respecto sobre el volcán en una supuesta entrevista que publico Intrepit en su pagina web hace ya varios años atrás.
"Are there natural disasters? Like Volcanic eruptions or tornados?
There is definitely a volcano in the game, it's dormant at the start, whether it stays that way or not... you'll have to find out."
"¿Existen desastres naturales? ¿Cómo erupción volcánicas o tornados?
En definitiva existe un volcán en el juego, esta inactivo al comienzo, podría quedarse de esa forma o no… tendrás que averiguarlo."
Al parecer el volcán sería un elemento importante en el juego el cual tendríamos que controlar o intentar escapar de el, o simplemente se trataba del final del juego.
Después del gran anunció del 2001 el juego estuvo en la espera de muchas personas pero no fue hasta el 2003 donde las cosas empezaron tomar un rumbo poco comprometedor, en la pagina oficial de Microsoft anuncio que B.C. se retrasaba a la primavera del 2004, paso un tiempo y llego el 2004, Microsoft anuncia de nuevo que B.C se retrasaba para el 2005! (para ese momento la gente daba por hecho su cancelación.) A finales de ese mismo año (2004) Molyneux anunció públicamente la cancelación de B.C. diciendo esto:
"The decision to suspend work on any games project is always a very difficult one, particularly when it is a title with the potential of BC."
"La decisión de suspender el trabajo en cualquier proyecto es siempre una decisión difícil, particularmente cuando es un título con el potencial de BC.
P.D: Soy bien pinche hablador :v."
Después de su cancelación muchos especularon que su cancelación se debía a Fable, incluso Peter Molyneux mencionó en alguna ocasión que la cancelación de B.C. se debió a que deseaban concentrar todos sus esfuerzos en un solo proyecto y no en dos. Pero no fue hasta hace pocos meses atrás que Molyneux hablo en un entrevista para el canal de IGN al respecto.
En resumen Peter Molyneux da a entender que la demo de B.C. en aquel E3 se veía tan bien que genero demasiada expectativa en aquel juego, pero que lo único que tenían era una gran demo y no más.
Citó
"That demo didn't mean it was a great game, it meant it was a great demo."
"Esa demo no significaba que el juego era bueno, solo significa que es una buena demo."
"So what B.C. was, was a great demo, a truly great demo, but what that happened, I think mainly because the team needed a little more guidance, that demo actually destroy any game that was there, it was a just great demo."
"Entonces que fue B.C., fue un buen demo, un demo verdaderamente bueno, pero lo que sucedió, pienso que fue principalmente porque el equipo necesitaba un poco más de orientación, ese demo realmente destruyó cualquier juego que esta allí, fue solo un gran juego.
"That happened to Fable by the way, exactly the same that happened..."
"Eso paso con Fable por cierto, exactamente lo mismo sucedió…"
"We fix one, but we couldn't fix both."
"Arreglemos uno, pero no pudimos arreglar los dos."
Peter Molyneux menciona que tuvo que elegir entre B.C. y Fable, porque su equipo sufría de problemas financiero. Nunca sabremos que hubiera sido de B.C. si no hubiera sido cancelado, pero gracias a PtoPOnline podemos aprender mas de este juego cancelado. PtoPOnline tiene una demo que nunca fue vista por el público y tambien algunos conceptos de los desarrolladores que nunca vieron la luz. Lastimosamente los videos solo se encuentran en ingles pero lo que en verdad importa es el gameplay así que si te interesa no dudes en verlos.
¿Qué tan bueno sería B.C.?